Gold Lightan
Gold Lightan

Name

Gold Lightan

Gender

Male

Weapon/Power

Himself

Affiliation

Good

Vitality

900,000

First Appearance

Tatsunoko vs. Capcom

First Appearance in Anime

Golden Warrior Gold Lightan (1981)

Voiced By

Issei Futamata

Company

Tatsunoko
Golden Warrior Gold Lightan (黄金戦士ゴールド・ライタン, Ōgon Senshi Gōrudo Raitan?) is a main character in an anime series of the same name which aired in Japan on 1981 to 1982.
Appearance
Edit
Gold Lightan has the appearence of a Golden Giant Robot with box-like body parts with box-like indents on his body and feet. Gold Lightan has a Golden Box head with round orange glowing orbs for eyes. In the anime, Gold Lightan can transform into a Zippo-style lighter small enough to fit in a normal sized pocket. When called upon, Gold Lightan will transform into his Giant-like state measuring 30 meters high and weighing 200 tons to save the Earth from the invasions of King Ibalda. In Tatsunoko vs. Capcom, Gold Lightan also has an alternate costume, Silver Lightan, which can be unlocked by beating Story Mode with him and purchasing it at the shop for 1,000,000 Zenny.
Personality
Edit
Gold Lightan fights the evil forces of King Ibalda and his alien robots with his robot teammates. Gold Lightan and his allies are sentient and thus, do not require a pilot. Although he is sentient, Gold Lightan does have a captor Hiro Taikai who keeps him when he's in his Zippo lighter form and calls him to action against King Ibalda.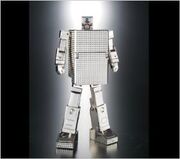 Abilities
Edit
Gold Lightan is a Giant character and thus cannot have a partner. Although the fact that he has Super Armor and can counter-attack through hitstings tries to remedy this problem. Gold Lightan has some pretty decent comboes that can easily lead into one of his Hypers or Grabs, and Lightan has a solid corner game. Gold Lightan also has Snapback, the ability to force an opponent's partner out of the screen and switch it with the one in reserve, a trait only shared by PTX-40A, Alex, and Hakushon Daimao(character from Cross Generation of Heroes).
Special Abilities[1]Edit
Gold Lightan's Special Moves are based loosely on his abilities in the anime.
This move makes Gold Lightan swing his arm forward in a horizontal arc. This is a good offensive move to use against opponents since you can cancel into it from the last normal move in your BnB hitstring.
The Light version is very fast, safe, and easily comboable. The Medium and Hard versions are slower with more recovery time but are more damaging. The more important fact to note about the Medium and Hard Tank Slices is that you can combo into the Level 1 Hyper Gold Crash since these versions of the Slice knock your opponent down.
This move can also reflect projectiles. The timing is a little tricky though, so most players don't bother with it. To reflect projectiles, simply input the move before the fireball actually reaches Lightan's hand. Lastly, this move hits twice, but both of the hits knock down on the Medium and Hard versions.
Battleship Breaker (Gold Drop Kick)
Lightan takes a leap and throws his leg out, traversing about half the screen. This move has a very long, active hitbox and also conjures a different hitbox as Lightan is landing on the ground.
You can use this to punish mid-screen projectile throwers. The Light version travels the least amount of distance but starts up the fastest, but the Hard version does a Snapback.
This move has a horrible amount of recovery time, but you can use Baroque to make it safer. Also, you can combo into this move from Lightan's Launcher. If you're accidentally getting a command grab instead of the Hard Drop Kick due to input leniency, try to end your joystick movement a little faster.
Gold Lightan's Quake hitbox covers the entire ground, similar to C. Viper's EX Seismo Hammer from Street Fighter 4. If you land this move, you can Cancel it into Gold Crash after your opponent lands on the ground. It's a great psyche-out move to use in a corner after trying to pummel your opponent. It also must be blocked low, adding to the confusion.
The startup animation of this move is similar to Gold Crash's, so you can use that for psychological purposes as well.
Light version has the quickest startup and least damage, Hard has the opposite. You can land Gold Crash after landing any version of the move.
If you're being kept out from attacking due to one of the special moves listed above, then Gold Quake is your only offensive option. This is especially useful against characters like Tekkaman and Tekkaman Blade.
To execute the 360 motion you must hit 6 points on the joystick, you do not have to do a true 360 motion, 225 degrees will work -- and you can start from any direction. The input leniency in Tatsunoko vs. Capcom means that you have to be careful when doing the half-circle motions explained earlier in this guide; doing a Hard Gold Chop or a Hard Drop Kick may result in this move instead.
The next bad part is that you can cancel into this move despite it being a command grab, and the last bad part is that this move has input priority over the half-circle motions. Be precise.
This body slam command grab does a lot of damage, but it is techable and thus escapable. The window to tech the move is smaller than Gold Lightan's regular grab making it useful as a surprise move. This move can also grab opponents out of the air. If you're really trying to psyche your opponent out, you can cancel into this attack from a normal move like your launcher.
Lightan's Hyper Combos are based on his abilities in the anime and his attacks.
This is a Hyper version of Gold Stomp. It's the most practical Hyper move that Lightan has and it leads into his Level 3 Hyper.
It has a large amount of startup time, but this can be eliminated by executing the motion while Lightan is airborne, since Lightan will fall straight into the ground to complete this move instead.
The Gold Crash performed while jumping and the Gold Crash performed while standing on the ground have different properties. The one performed in the air does less damage and can be blocked high or low. The one done on the ground does more damage and must be blocked low; also, the ground version can lift opponents off the ground after a knockdown.
Gold Crash is a great Hyper move to punish people performing laggy moves on the ground such as projectiles and special moves. It's also the most comboable.
Gold Lightan does a much more powerful version of his standing kick. This move has a lot of startup time and the hitbox only extends within Lightan's foot, so it's really hard to punish whiffed moves with. However, you can combo into this move from Lightan's launcher.
This Hyper move is really powerful, but if you use it in a combo it does about the same damage as a combo ending in Gold Crash would have done. Still, if you manage to land a launcher on someone's character by chance, then this is the ultimate punishing Hyper to Cancel into.
Gold Finger Crash (Level 3)
You have to successfully land Gold Crash before you can execute this move. While Gold Lightan is sliding forward to deal his soul-crushing blow, do this motion. Gold Lightan's eyes should flash, and he will slam his opponent into the ground hard.
This move does a great amount of damage and is also totally free, depending on whether you land Gold Crash or not. Doing this move after doing the standing version of Gold Crash does slightly more damage, but not much.
When playing as Gold Lightan it is more than likely that you will accumulate lots of Hyper meter, so don't be afraid of using this move to finish someone off, especially a troublesome character whose matchup favor is against you.
Win Quotes
Edit
"I will protect this planet, and fight anyone who tries to hurt it!"
"Give up. There's no point in trying to fight me."
"My body is near impervious. Your attacks didn't even leave a scratch."
"I've never faced an opponent as diminutive as you. That fight was actually quite draining."
"Please, you must calm down. I have something important to tell you."
"You are a true warrior! I'm proud to say I was able to meet you in battle!"
"True friendship is born from the ashes of battle. There is no treasure greater than this!"
"Above all else you must strive to protect those you cared about. If you have the will, you can overcome an opponent of any size!"
Win Quottes (vs. Characters)
Edit
References
Edit
Special Moves information taken at http://www.eventhubs.com/guides/2009/may/19/gold-lightan-tatsunoko-vs-capcom-character-guide/
Hyper Combo information taken at http://www.eventhubs.com/guides/2009/may/19/gold-lightan-tatsunoko-vs-capcom-character-guide/
Community content is available under
CC-BY-SA
unless otherwise noted.