This Fandom wiki is currently inactive. You can
adopt this wiki
and revive it.
To be recycled as main Tatsunoko wiki for its old retro series/media to now!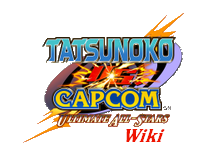 Welcome to a New World of Fighting!
Welcome all fighting fans. A game that was never supposed to reach the US shores but it did, the awesome Tatsunoko vs Capcom: Ultimate all Stars is here. This site gives all sorts of information from the original Tatsunoko vs Capcom:Cross Generation of Heroes to Ultimate All Stars. Get ready for the Ultimate fight!
The Games
Tatsunoko Characters
Capcom Characters
Latest Activity
Community
Community content is available under
CC-BY-SA
unless otherwise noted.